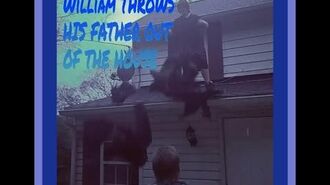 Plot
[
]
William wants to spend the family night playing on his Xbox. But Bill says that it's about time he gets off his lazy butt. William has had it and wants him out of the house. William goes upstairs, goes into Bill's room, grabs his clothes, and throws them off the roof, leading Bill to leave the house.
https://www.youtube.com/watch?v=dQw4w9WgXcQ
Trivia
[
]
The title for this video should be called, WILLIAM KICKS HIS DAD OUT OF THE HOUSE!!! or WILLIAM THROWS HIS DADS CLOTHES OFF THE ROOF!!!.