WILLIAM SMASHES LUCY'S PHONE AND PUTS IT IN BLENDER!!! (later known as Kid Smashes Sister's Phone and Puts It in Blender!!!, and now known as KID THROWS SISTERS PHONE IN BLENDER!!!) is a video on the Violette1st YouTube channel.

[

]
Plot
[
]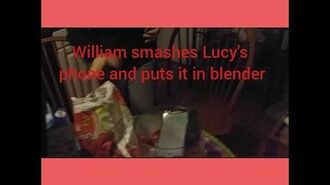 William is jealous about Lucy's choice on Saturday, and he wants to get his choice, especially after all she has done to William recently (which he refers to as "crap"), namely throwing his controller in the toilet and breaking his laptop. Violette suggests that William will get his choice next week. But William throws a huge temper tantrum that involves him yelling "NO!" so many times to what Violette said, smashing Lucy's phone, putting it in a blender, and blocking it so that neither Violette nor Lucy could take the lid off. Violette gets very furiou1s and tells him to give Lucy back her phone, and Lucy ends up getting the phone back. However, suddenly, William takes the phone from her hands, throws Lucy's phone on the ground, stomps on it, and puts fruit and milk on it, making Lucy make a long whaaaoa sound so Violette gets very furious. She tells him that he will not get his choice next week, and admonishes William for the ruthless thing he's done. She also wants to see if Lucy's phone can be fixed. Lucy says that there is glass in the smoothies. As a punishment, Violette sends William to his room for a time out and she will turn off his Internet and confiscate his Xbox from him, now that Lucy's phone is completely destroyed. It doesn't seem Lucy's phone can be fixed now, can it?
Things Destroyed
[
]
• Lucy's Phone (~$200 in Damages)
Trivia
[
]
At the beginning of the video, Its revealed that Violette and likely Bill have owned a Vizio TV.