This video was uploaded on December 20, 2015.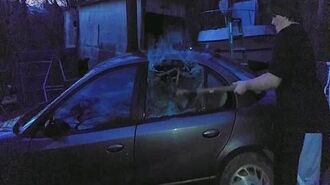 Plot
[
]
Violette locks William's Xbox in the car. When William comes outside after using the bathroom, he finds his Xbox in the car. Violette says Bill has the key and William can't get it. This enrages him and causes him to get a pickax and hit the car window with the pickax. The first time he hit it, William failed to break it, but the second time, the window shattered. Violette screams, "WILLIAM!" William opens the car door and gets his Xbox back. Violette wants William to pay for the car window he broke, but William refuses. Violette tells William to get in the house and William tells Violette that she shouldn't have taken his Xbox. Then Violette threatens to go in the house and get the Xbox away from him again, but William angrily yells "NO!" Violette gets upset and signs off, very annoyed indeed.
Things Destroyed
[
]
• Sedan Car Window (~$150.00 in Damages)
Trivia:
[
]
This is the last raging video of 2015.
This is the first time William has damaged the car.
William's voice seems to have gotten deeper since his previous appearances. Possibly because he was going through puberty at the time.
At 2:42, after William grabs the Xbox, William's butt can be seen.
This is the third time Violette talks gibberish. The first time she talked gibberish was in William Destroys Pumpkin With an Axe, the second being William Throws The Thanksgiving Turkey, and the fourth being WILLIAM BURNS HIS HOMEWORK.