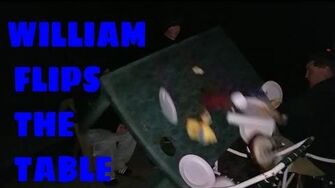 Plot
[
]
The video begins with Violette saying that William did stay home from school, but she didn't want his birthday to be boring. So she set up a small party with hot dogs and a small cake with Bill and Andy. It started off peaceful, but turned when William said that he actually wanted something for his birthday. They had a few bucks, and Violette offered to take William to get some clothes, but he was very furious, smashed his own hot-dog, smashed Bill's, slammed a paper plate on his head, and flipped the table.
Moments got worse when William rips one of the cabinet doors. While William claims it was an accident, Bill and Andy said that he was so angry that he did it on purpose. The video ends with a frustrated William going upstairs to his room and Violette ending the video disappointed after the events while Bill and Andy still rant about the broken cabinet doors and after he ruined the table with the birthday cake and hot dogs along with plates set on it.
Things Destroyed
[
]
• Four Hot Dogs (~$6.00 in Damages)
Trivia
[
]
• Lucy does not appear in this episode for some reason, probably because she was not on good terms or was busy that day.
• The cake fortunately survived and landed on a napkin when the table flipped.