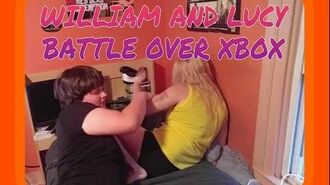 An angry son catches his sister playing on the Xbox.
Plot
[
]
The video starts with William angry at Lucy cause she is playing GTA 5. After he fails to take the controller, he turns off the internet, forcing Lucy to play offline. As a punishment, Lucy locks the door, forcing William to get in the room by climbing up the roof and unlock the door. Lucy had enough and took the controller outside.
TRIVIA
This is Lucy's second official appearance in the series.