WILLIAM AND ANDY'S WHIPPED CREAM FREAK-OUT!!! (also known as Kid and Cousin's Whipped Cream Freak-Out!!!) is a prank video on the Violette1st YouTube channel.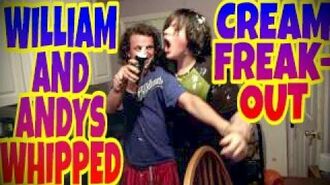 Plot
[
]
Andy wants to prank William once again by putting whipped cream on him. William gets mad and tells Andy, "Get out of my room!" Andy and William fight together from there, and it involved breaking a plate. William would then try to consume the whipped cream, making Violette mad because she says it's unhealthy. After a lot of fighting over the whipped cream, William goes back to his room without cleaning up the whipped cream by angrily asking his mom to turn the lights off in his room because he's going to bed but his mom asks him to clean up first in which he replies to her by slamming his door in front of her. The video ends with Violette asking William and Andy to clean up the whipped cream mess and Violette will turn off the camera because she is stressed out and Andy is laughing.
Trivia
[
]
Andy pranked him in the last video, which was uploaded on July 3, 2017, and in this video, which was uploaded on the day after.

The first video involved William burning his phone, and the second one involved him breaking a plate.

Andy has a Triforce Piece tattoo from The Legend of Zelda on him.
It is unknown how William was sneezing in this video. It could be that he has allergies or the whipped cream might have gotten inside one of his nostrils.
This video was uploaded on Independence Day. (Fourth of July) This and William and Andy in: Pillow fight!!, because it was one year apart.
At 2:02, it's unknown why William screamed at Bill.