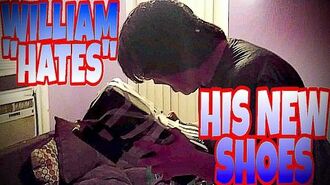 Plot
Violette feels bad for William after selling his shoes on Ebay in MOM AUCTION'S SON'S SHOES ON EBAY FOR A PENNY!!!. William displays a grouchy and stubborn attitude over this. She tries to get William to look at new shoes she bought for him, but he refuses. William thinks they're a different kind and attempts to destroy them by stomping and taping up the shoe box and kicking it like a soccer ball. After awhile he gets a lighter fuel, candle lighter, paper towel and an airhorn so Violette can't stop him form destroying the shoe. After realizing the shoes were sort of the ones he wanted William calmed down and accepted the new shoes and Violette sees William sleeping with his new shoes on his feet.
Community content is available under
CC-BY-SA
unless otherwise noted.