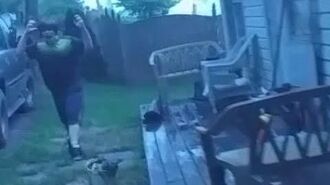 "STOP TAKING MY CRAP AND FREAKING DESTROYING IT!!!"
"You don't deserve it!"
William and Bill arguing about the Xbox.
William's lockout Freakout is a video posted on violette1st and is the 57th video on the Williams raging series playlist.
Plot
[
]
Shortly after the incident in WILLIAM'S LIGHT-OUT FREAK-OUT!!!, Andy said he hid William's Xbox before going to work. So he and Violette search for it before it rains. Bill found it somehow, but he said he wasn't getting it and locked them both out. William gets anxious and takes the window way to get in and gets his Xbox and goes in his room while his dad says "You don't deserve it!".
Trivia
[
]
• This is the last "(Blank) Out Freak Out" video, with the others being Power Out and Light Out.
• This Clip Will Also use in KID AXES DAD'S TV OVER XBOX!!!
Bill was being a hypocrite in this video, because it was storming and he locked William and Violette outside the house. But luckily, William managed to climb up on the roof to pull up the windows to crawl through his room, and Bill tried to let his wife inside the house, but Violette would not let her husband commanding her to go back out.