Jurassic World: Dominion Dominates Fandom Wikis - The Loop
Play Sound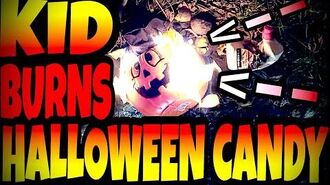 Plot
William and Violette have come back from the grocery store. She wants him to go inside and let her take the groceries, but William takes the groceries, as well as two pumpkin baskets (one for him and one for Zachary). Zachary's basket has candy and some toys while William's basket has fruit snacks, almonds, toy frogs, a shirt, oranges, a Chinese finger trap, some toys, a few Almond Joys and a pumpkin carver. William accuses Violette of spoiling Zachary and treating him better, while she contends that he and his nephew are very different in terms of age, and as such, she wants to be fair and treat them different.
William eventually gets mad and goes outside to burn his basket and all of the items in it. He also sprays the silly string at his burnt-up basket and eats some of Zachary's candy, much to Violette's horror. Violette asks him, "How could you do that to your little nephew? He loves you!" Violette warns Lucy (if she is watching the video) not to show it to him out of fear of him getting spooked from it. William locks Violette out once again and makes her put out the fire.
Quotes
• (17:05) Violette: "Neighbors probably getting immune to us. Oh it's just William's weekly fire. Put it out! PUT IT OUT! Get a bucket and put it out!"
Things Destroyed
• Plastic Halloween Jack-O-Lantern Bucket ($9.38 in Damage)
• Candy and Treats ($12.99 in Damages)
Total Damage $22.37
Trivia
Content Rating
• TV-PG-V