Plot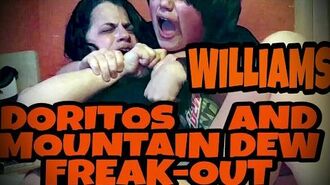 William has gone a week without eating junk food, much to Violette's joy. She decides to have a "Mother and Son Reese's Peanut Butter Cup moment", by surprising him with a jumbo-sized Reese's cup. She opens William's bedroom door and sees him chowing down on his Doritos and chocolate frosting, as well as drinking a 2-liter bottle of Mountain Dew. She gets furious and starts to fight William and throws his treats all over his bedroom, and soon they are flat-out fighting. Despite William saying that he deserves the candy, Violette takes it away anyway, despite the fact that he went without junk food for one week.
Trivia
In the video, William burped and coughed at the same time at 6:14.
A close-up of Violette's bottom was shown in this video starting at 7:19.
Community content is available under
CC-BY-SA
unless otherwise noted.