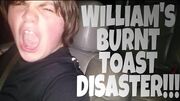 Plot
[
]
William wants to make toast, but he ends up preheating the toaster oven while the toaster is inside, causing it to burn. William gets mad and he axes the toaster and even tried to drive away. His mom takes him to McDonald's, but William wants to get his phone, making the situation even worse. William starts an argument with his mom about getting his phone. He then wanted a Big Mac but his mom refused to get him a Big Mac because she thinks they are bad for him.
Things Destroyed
[
]
Slice of Toast ($0.20 in Damage)
Toaster Oven ($30.00 in Damage)
Trivia
[
]
This time, William destroyed something unintentionally rather than destroying it out of rage.
Andy's old tablet that was drilled to the deck can be seen at 6:43 when Violette moves the camera.