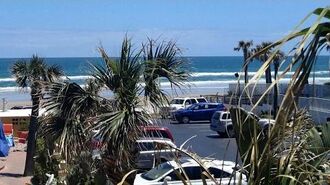 Plot
[
]
The Violette1st family is going to Florida. The people going are Violette, Bill, William, Andy, Zachary, and Lucy. They only went two miles when Bill stops at Advance Auto to buy oil. William mentions that he is trying to find an inverter for his laptop. They then stop at the gas station so Bill can clean the windshield. Everyone starts getting impatient and angry. They are on the road for a couple hours when the alternator went out and they broke down. While getting their car fixed, Violette takes the dogs to relieve themselves. Violette mentions that they could have been running around in Kings Dominion if they would have known that would happen. After they eat, they go into a convenient store off of I-95 with clothes, tools, electronics, showers, video games, a Best Buy Express machine, and a lounge section to watch TV. Violette finds an inverter for William's laptop. Bill asks if Violette can buy him doughnuts, and Violette says no and that he has to buy them. They are then at a Wal-Mart in Georgia. They have been up all night except for those who slept in the car. At lunchtime, they are finally 11 miles from their destination. It all pays off when they get to Daytona Beach.
Trivia
[
]
This is one of the few videos where they get along.
This is one of the few videos where Bill does not say "Jerk".
This is a reference to ANDY DESTROYS WILLIAM'S KINGS DOMINION SNAKE because Violette mentions the fight Andy and William got into over his Kings Dominion snake.
The second and last video where Andy and Lucy are together in the same video, which is rare.