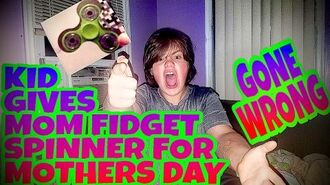 Violette starts the video off by feeling excited that today is Mother's Day. However, William forgot about Mother's Day, even though he texted Violette a while ago saying that he was going to come downstairs and spend time with her. He decides to give her a fidget spinner which was the exact same color as the one he destroyed with a hammer in WILLIAMS FIDGET SPINNER RAGE AND DESTRUCTION!!! Violette decides to play along with it and appreciates it at first. However, after a few minutes of confusion, she realizes that William gave her something she gave him as a gift. Eventually, this results in a huge argument between the two. First William agreed to do some stuff with Violette and when he asked her to make dinner, that is when they started to argue about Mother's Day. William even said that Violette doesn't deserve Mother's Day and that there should be a Son's Day, making Violette furious. However, he tries to resolve the conflict by agreeing to going out to eat, which is something Violette likes only to pick Taco Bell. Eventually, Violette gets furious and takes the fidget spinner upstairs and gives up on Mother's Day. William tries to apologize, but Violette doesn't care. Afterwards, the video ends into where part 2 will begin.
This is the second appearance of William's fidget spinner.
Community content is available under
CC-BY-SA
unless otherwise noted.