Line 4:
Line 4:
 

While not stated, she is presumed to be Andy's psychotic ex-girlfriend. Little is known about her. However, she was mentioned and had tried to stalk[[ Andy]], and the judge said that Andy and her couldn't see each other. She was revealed to have presumably dated and stalked Andy, making [[Violette]] go to court to testify. In one of their fan mail videos, they were asked about her, and William and Violette responded by saying they' will talk more about her in the future. In [[WILLIAM AND ANDY BEAT EACH OTHER WITH THEIR PEPPERONI STICKS!!!|WILLIAM ANDY ANDY BEAT EACH OTHER WITH PEPPERONI STICKS!!!]], she was briefly mentioned by William, who said Andy was probably saving his pepperoni stick for her. It is unknown how Andy met and dated Rebecca for some reason, but ends up getting stalk on for some bad reasons.

 

While not stated, she is presumed to be Andy's psychotic ex-girlfriend. Little is known about her. However, she was mentioned and had tried to stalk[[ Andy]], and the judge said that Andy and her couldn't see each other. She was revealed to have presumably dated and stalked Andy, making [[Violette]] go to court to testify. In one of their fan mail videos, they were asked about her, and William and Violette responded by saying they' will talk more about her in the future. In [[WILLIAM AND ANDY BEAT EACH OTHER WITH THEIR PEPPERONI STICKS!!!|WILLIAM ANDY ANDY BEAT EACH OTHER WITH PEPPERONI STICKS!!!]], she was briefly mentioned by William, who said Andy was probably saving his pepperoni stick for her. It is unknown how Andy met and dated Rebecca for some reason, but ends up getting stalk on for some bad reasons.

 
 
−

== Persona ==

+

== ==

−

Not much is known about her, because she has been mentioned in videos. But she may have a rotten personality.

+

Not much is known about her, because she has been mentioned in videos. But she may have a rotten personality.

 
 
 

== Appearance ==

 

== Appearance ==
---
Revision as of 22:12, 10 August 2020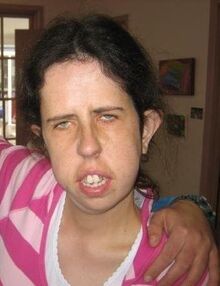 Rotten Rebecca is a character mentioned in ANDY HATES ROTTEN REBECCA!! (RAGE) and "WILLIAM AND ANDY BEAT EACH OTHER WITH THEIR PEPPERONI STICKS!!!".
While not stated, she is presumed to be Andy's psychotic ex-girlfriend. Little is known about her. However, she was mentioned and had tried to stalkAndy, and the judge said that Andy and her couldn't see each other. She was revealed to have presumably dated and stalked Andy, making Violette go to court to testify. In one of their fan mail videos, they were asked about her, and William and Violette responded by saying they' will talk more about her in the future. In WILLIAM ANDY ANDY BEAT EACH OTHER WITH PEPPERONI STICKS!!!, she was briefly mentioned by William, who said Andy was probably saving his pepperoni stick for her. It is unknown how Andy met and dated Rebecca for some reason, but ends up getting stalk on for some bad reasons.
Personality
Not much is known about her, because she has been mentioned in videos. But she may have a rotten personality. But it is implied that she's a crazy criminal. She is known to be strange, insane and psychotic.
Appearance
Rebecca's face looks snubbed, and her two front teeth on the top look like buck teeth, and her nose short and stubby. It's less than 1 cm (0.4 in) wide. Her hair is black, and this is about her face again; it has an odd look to it.
Fan Reputation
There has been rumors or theories that Rotten Rebecca might have cheated on Andy or being a criminal in her own way. Some people said that she stalk Andy ( mostly if he cheated on her or not ). Some fans stated that she might be a psychopath. Despite not being in a video, a lot of people hate her based on conclusions of her. They said that she is even worse than Bill as she likes to stalk Andy and getting herself in trouble with the law. However, some fans like the sense of mystery that she was added to the series, as not much is known about her. Those who are interested in finding out more about her often ask to know more details of her, which Violette said they might discuss in a future video. For now, she is mostly a mystery. For some reason, she is worst than Lucy as she tries to stalk her Ex-boyfriend or trying to kill him for their bad relationship.
Community content is available under
CC-BY-SA
unless otherwise noted.