POOR SICK WILLIAM CAN'T STAY OFF XBOX is a video that was uploaded onto the Violette1st YouTube channel on February 9, 2017.
William is sick with a bad cough, so he is told by Violette to go to bed early and get enough rest. While Violette tried to have some time alone in the living room, she heard some banging coming from William's bedroom, so she went up and saw that William was playing on his Xbox and eating cinnamon bun icing. That's when she realized that William was getting her to wait on him.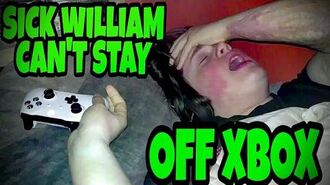 The video shows that Violette's favorite channel was Discovery ID (Investigation Discovery)
The purple and sweat on William's arm is from burning him self a couple of years ago.
Reception
Edit
This video received generally positive reviews from fans, yet they still complain about Williams behavior and how Violette treats him like he's 5. Violette also received hate for not taking control of what a fan described as "a disease infested house".
Community content is available under
CC-BY-SA
unless otherwise noted.