MOM AND SON BATTLE OVER REESE'S PEANUT BUTTER CUPS!!!
(also known as
Violette and William Battle Over Reese's Peanut Butter Cups!!!
) is a raging video that was uploaded on March 3, 2018.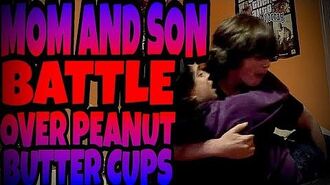 Plot
Violette starts the video by explaining about their crazy winter. She then explains that she has some Reese's Peanut Butter cups that she's gonna eat while William is upstairs playing video games. She opens up the pack of Reese's and shows how huge they are. She says that she will only eat 1/6 of it. Just as she's about to cut it, she hears William coming downstairs. She then tries to hide the Reese's by putting a tissue box on top of it. William then comes down and says that he heard Violette talking about the peanut butter cups. Violette tries to keep it cool and says that she wasn't talking about anything, but William is still suspicious. William then finds the Reese's and takes them upstairs with him as punishment for Violette. Once William is upstairs, Violette then brings out a big Hershey's kiss as a replacement. Once she starts unwrapping it, William then comes downstairs again. She tries to hide the Hershey's kiss, but it's too late. William finds out about it and then takes it. Violette then attempts to get her candy back then sees William eating her candy like a pig. Then fight for it. William then gets advantage over the Hershey's kiss and drags Violette out of his room William Goes to Bed and Violette Signs off.
Community content is available under
CC-BY-SA
unless otherwise noted.