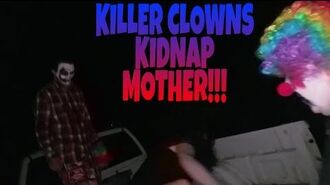 The video starts off with Violette saying to the viewers that someone has been knocking on the front-door and when she answered, nobody was there. She goes upstairs to tell William, but he is wearing his headphones and playing on his TV. Violette tells William what is going on, but he says that she's just being crazy. Violette tells William that someone is actually knocking on the door. William goes downstairs to check outside, but tells her that he did not see anybody. Violette hears the knock again, but is too afraid to check. William checks again and says that nobody is outside and she was probably hallucinating, but she denies that. A few minutes later, the power goes out and Violette calls William back downstairs and he walks down. Eventually, Violette starts to scream, so William takes the camera. Violette is all muffled up and wrapped around in blankets. 2 Killer Clowns drag her outside with William holding the camera. He follows them to a white truck. The clowns put a muffled and screaming Violette on the trunk. Violette screams and tells William to grab Bill's gun to kill the clowns. One of the clowns scare William off with a chainsaw once he returns outside. William runs back to the truck and tries to get the clowns away from her, but fails doing so.
Then, the clowns start laughing. The clowns actually turn out to be Bill and Andy! It was revealed that William was also involved in the prank. Violette tells the boys that the prank they did was not funny at all. Back inside, Bill says to her that they wanted to get her back first, before she could do the same because she was pranked last week in KID CUTS HIS FINGER OFF WITH CHAINSAW!!!.
Community content is available under
CC-BY-SA
unless otherwise noted.