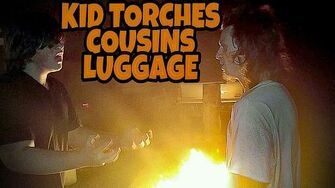 The day has finally arrived for William, his parents, Lucy, Zachary and Andy to go down from Maryland to Florida for their Spring Break vacation. Everyone is excited until William and Andy argue when getting the luggage, but they try to cover up their argument. William wants to put his Xbox and laptop in the large suitcase while Andy doesn't want it there cause he doesn't want it to touch his Polar Bear Paws. During their argument, William says Andy's paws are nasty while Andy was says William's Xbox was nasty.
William goes crazy and takes the suitcase with Andy's Polar Bear Paws inside and tries to burns it. Violette and Andy then get into a Tug-O-War with William trying to stop him from burning the suitcase and the paws. After William sets the suitcase on fire with Violette calling William a maniac, Violette and Andy watched in horror as William poured more lighter fluid on the suitcase, burning both the suitcase and paws together in a big fire. Now William said that Andy's paws are done and he will have no more embarrassment from those paws ever again and the two get into a fight.
Violette gets scared and makes them put out the fire before someone calls the police. She also tells William that he isn't getting a suitcase after what he did. The video ends with one of the neighbors threatening to call the police on them if they continue to be loud and the fire is not put out.
While William and Andy were arguing,Andy accidentally said that William's Xbox wasn't nasty.
At 6:26,William accidentally said onsane instead of insane.
Community content is available under
CC-BY-SA
unless otherwise noted.