KID GOES CRAZY AFTER DAD DESTROYS INTERNET ROUTER!!! (also known as William Goes Crazy After Bill Destroys Internet Router!!!) is a video that was uploaded on 4 April 2016 on the Violette1st YouTube channel.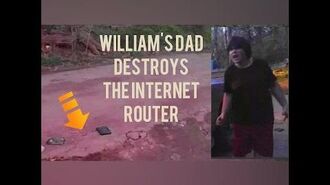 Plot
[
]
It's still Spring Break and after their Florida trip, William still has homework he needs to complete. However, William is raging at his Xbox and refuses to come down and do his homework. After some attempts for Violette to get William to do his homework, Bill decides to turn off the internet to make William get off Xbox and do his homework. Violette then tells Bill to turn off the internet after William refuses to get off Xbox and do his homework making William furious that his online gameplay was cut short. William then goes downstairs to turn it back on along with Violette telling him he is not turning it back on and when William gets downstairs, the router was gone. William then goes outside and sees his dad in Violette's car and it was revealed that the router was underneath the car and Bill just ran over the router and it got sliced in pieces. In the end, William yells at Bill for destroying the router and Bill tells him that's what William gets for burning his phone. William then throws the remains of the router towards his dad and Violette tells William to stop. William then freaks out over the fact he can't play Xbox without internet and Violette said he can buy a new one for $90 and William doesn't understand why he has to pay for everything even if he can't afford it.
Day and Night cycle
[
]
Daytime Evening
Things Destroyed
[
]
• Internet Router ($90.00 in Damages)
Trivia
[
]
This is the first time Bill destroys the router.
At 2:16 when William was picking up the damaged router before throwing it straight towards Bill, his butt can almost be seen.