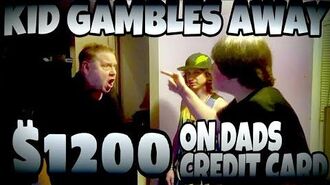 William is mad on the computer in the linen closet where Bill's computer is. Violette overhears William saying that he lost $1,200 and she immediately rushes into the room where William shuts off the computer as soon as he sees her. Soon, Bill comes in and reports a $1,200 transaction on his credit card for a gambling website. William, after first denying it, eventually confesses that he gambled away $1,200 on his Dad's gambling profile which Violette doesn't know Bill has. At first, Bill tries to deny it and blame Andy, but, eventually, he admits that he started gambling in order to recover from the spendings of last Christmas and admits that he forgot to turn off his profile. Despite that it's clearly his own fault, Bill insists that William is going to pay back the $1,200 and, when William refuses, Bill steals William's Xbox and says he's not getting it back until he gets his money back.
Community content is available under
CC-BY-SA
unless otherwise noted.