This video was uploaded on December 1, 2016.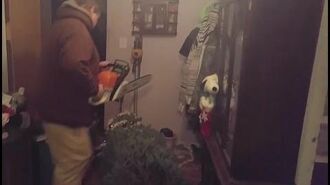 The video starts with William and Andy getting along and setting up the new Christmas tree that William paid for. William also felt bad from the incident where he shot and destroyed the TV and ruined the Family Christmas Movie Night and wrote a sorry note saying he owes his Dad a TV and left $5 set aside and a little TV for Temporary use until a new TV arrives. All goes well with the Christmas spirit and good deed until Bill comes home. When he finds out about the small TV, he gets mad because William is having Christmas despite having to owe him a new TV after the incident in WILLIAM SHOOTS THE TV!!!. Violette and William try to plead Bill to be patient with William and appreciate the fact that he is trying to do a good deed to make up for his bad deed but Bill chooses to be stubborn and refuses to listen to Violette. This makes Bill chainsaw off the Christmas Tree (which later sets off the smoke detector) and break the little TV, still mad about his TV getting destroyed and says they will not have Christmas until he gets a new TV replaced.
This is the second time Bill has used a chainsaw. The first one being in 'DAD CHAINSAWS KIDS DOOR DOWN!!!'
Community content is available under
CC-BY-SA
unless otherwise noted.