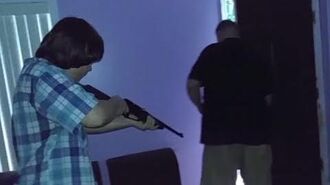 The video starts with William mad because for the past few days his dad has been using his Xbox and TV (Which he took from William's room after destroying his new TV.) After William finally takes his Xbox away from Bill, Bill then takes his controller away from him and gets ready to leave with Violette pleading him not to take his controller away but Bill won't listen to her. Just as Bill is right about to go outside, William then comes up from behind Bill with his BB Gun and gets Bill's attention and Bill asks "what? and William shoots Bill in the butt and Bill gets furious at William for shooting him in the butt causing alot of pain. William didn't think it hurt that bad since he used a BB Gun. As Bill proceeds to drive away, he noticed that William locked Bill's Keys in his truck and William tells Bill to Get Rekt and calls him a scrub. The scene was cut to where William and Violette were downstairs talking about Bill's pain was bad enough to have ice pack put on it. William calls it ridiculous because he thinks there is no way Bill's Pain is still hurting and Bill (who is upstairs laying on his stomach in bed with an ice pack on his butt) threatened to shoot William in the butt and William takes the TV back to his room to play Xbox.
This is the first time that Bill got shot in the butt.
William knows that Bill is faking an injury.
Community content is available under
CC-BY-SA
unless otherwise noted.