DAD LOSES $80 BET TO SON!!! (also known as Bill Loses $80 Bet to William!!!) is a raging video on the Violette1st YouTube channel that was uploaded on 7 February 2017.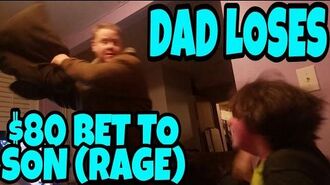 Plot
[
]
It's the Super Bowl and Andy and Bill were rooting for the Atlanta Falcons to win while William wanted the Patriots to win. At first, the Falcons were winning the game with 28 points (19 more than the Patriots), but the Patriots made a comeback and won the game 34-28 in overtime. Bill and Andy went hysterical cause they owed William $40 each and they refused to pay William. So instead, the boys beat each other with pillows, and Andy and William flip each other off.
Trivia
At 0:28 you can hear Andy say "DAMNIT!"
IN March 20 2020 Tom Brady Was Officially now in Tampa Bay Buccaneers
This is the second time Andy flips off William since KID SPEEDS OFF IN CAR WITH COUSIN CLINGING ON ROOF!!!
This is the first time that William used the middle finger.