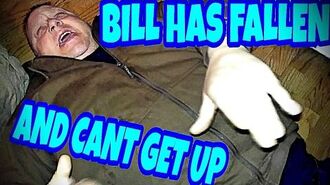 Plot
After going to the buffet and on their way home, the family said they all had a great time but then it later turns into a argument when William and Bill argue over who should go to the bathroom first. After some arguing and getting back home, Bill dashes in first to the bathroom and the house locking Violette and William out, but when Violette and William went to unlock the door they heard Bill screaming in pain saying "Ow!" . Once Violette finally opens to the door and saw that Bill fell down, William laughs at Bill with Bill saying He's fallen and can't get up. The family tries to get him up but struggled to get him up because Bill was very heavy. William constantly gave Bill a hard time to get up such as grabbing his legs and pulling him backwards with Bill saying This is parent abuse and William saying that Bill will sleep on the floor in the living room by giving him a pillow and a blanket. After finally gets up by leaning on the exercise bike, Bill rests on his chair and William proceeds to use the Bathroom first.
Trivia
The title reminds the famous LifeAlert line: Help! I've fallen and I can't get up!
Community content is available under
CC-BY-SA
unless otherwise noted.