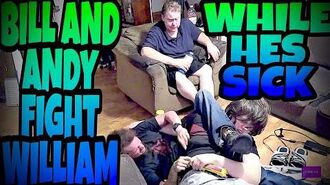 The video starts William having an ear infection and needs to be cured and Andy and Bill don't believe him and don't show that they care about William being sick. Violette asks William if she can get him get him a drink and William said yes. Violette went to get William a drink of water but William replied saying Water hurts his ear and Violette then gives him a Powerade. While Violette goes into the kitchen to the refrigerator to get William a Powerade, she can hear a fight going on and catch William grabbing Andy's Leg over taking his headphone and Andy didn't have them. Once Violette gives William his Powerade, Bill gets upsets and tell Violette to stop coddling William but she refuses. She offered William if she can make him something to eat like a Sandwich and Bill wants something to eat too but Violette only will do it for William since he's sick and William wanted Bill's Cookie Dough which angers Bill and he refused to share his cookie dough with William. After Violette going back and worth in Kitchen and seeing Andy and Bill fighting William, Andy then steals to cookie dough which then lead to a huge drama between the 3, including Bill and Andy hitting William over the Head with the Cookie Dough. Then the fight pauses when Bill takes the Powerade and William kicks Andy in the private area, so Andy falls down in pain. Bill said he won't give William back his Powerade unless William gives his cookie dough back to him and then the fight continues over the cookie dough. The fight ends with William then falling of the couch and he and Andy fighting over the cookie dough with Andy winning over the cookie dough and hits William with it then gives it to Bill and he hits him with the roll of dough. Violette signs off by saying she will divide the cookie dough up.
Community content is available under
CC-BY-SA
unless otherwise noted.