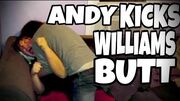 Violette wants to go to church service this Christmas Eve, and everybody else wants to also, except for William. Bill only wants to go for a free meal that comes with the service, but William doesn't want to. He says the music is stupid and so is Andy and his hat. This triggers Andy and a huge brawl ensues between the two. He puts a sock in his mouth, causing him to put soap in his mouth. Andy spills water on him, throws him between a window, and even crushes him with a door. Violette and Bill keep telling Andy to stop, but he doesn't listen. When Violette warns Andy that William will get him back in a future video next week, Andy scoffs that he isn't afraid of William and continues fighting with him as the video comes to an end.
This is the first video to start without intro on it.
Bill is not the antagonist in this video. Probably because he didn't act like it when they're going on a holiday.
This is the most hectic fight between William and his cousin.
Community content is available under
CC-BY-SA
unless otherwise noted.