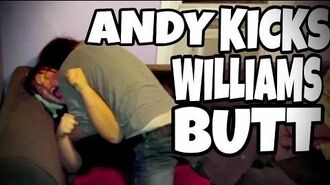 Plot
Violette wants to go to church service this Christmas Eve, and everybody else wants to also, except for William. Bill only wants to go for a free meal that comes with the service, but William doesn't want to. He says the music is stupid and so was Andy and his hat. This triggers Andy and a huge brawl ensues between him and William. He puts a sock on his mouth which leads William to put soap in his mouth. Andy spills water on William, throws him between a window, and even crushes him with a door. Violette and Bill keep telling Andy to stop, but he doesn't listen. When Violette warns Andy that William will get Andy back in a future video, Andy scoffs that he isn't afraid of William and continues fighting with him as the video comes to an end.
Community content is available under
CC-BY-SA
unless otherwise noted.